Through a generous legacy gift from Albert and Rhoda Yvette Weissman, the Jewish Community Foundation established the Albert Weissman & Rhoda Yvette Weissman Endowment Fund. As part of this fund and in honoring their wishes, the WEISSMAN ARTS program was formed. Click here to read more about Albert Weissman and Rhoda Yvette Weissman.
CURRENT EVENTS:
Friday, September 29th through Friday, October 6th – during the Sukkot holiday – The Ecology Center, San Juan Capistrano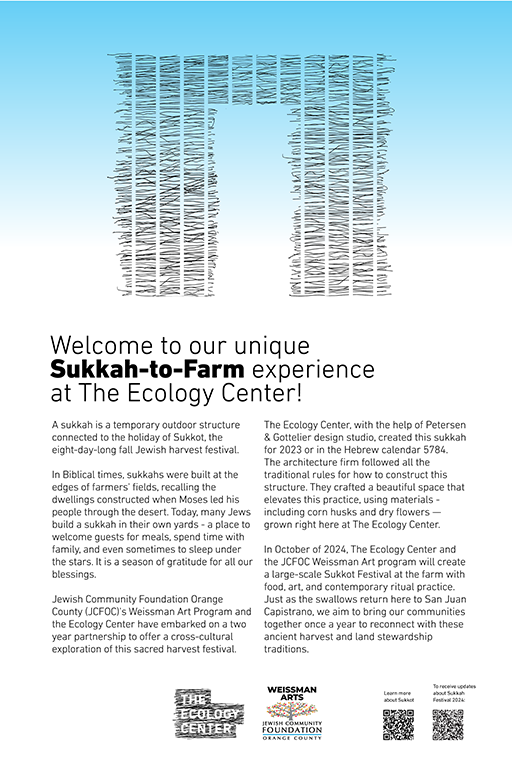 Jewish Community Foundation Orange County (JCFOC)'s Weissman Arts Program and the Ecology Center have embarked on a two-year partnership to offer a cross-cultural exploration of this sacred harvest festival.
The Ecology Center, with the help of Petersen & Gottelier design studio, created this sukkah for 2023 or in the Hebrew calendar 5784. The architecture firm followed all the traditional rules for constructing this structure. They crafted a beautiful space that elevates this practice, using materials from The Ecology Center, including corn husks and dry flowers.
In October 2024, The Ecology Center and the JCFOC Weissman Arts program will create a large-scale Sukkot Festival at the farm with food, art, and contemporary ritual practice. 
The Ecology Center is located at 32701 Alipaz Street, San Juan Capistrano, CA 92675, there is a parking lot on site. Come see the sukkah and visit this extraordinary 28-acre regenerative farm. Feel free to stay longer to check out The Ecology Center's Farm Stand, young families can enjoy the Eco Tot playspace, grab lunch at their vegan and vegetarian Campesino Café, or pack a kosher lunch and dine in the sukkah or at the picnic tables. Open Daily from 9am to 6pm.
PRIOR EVENTS:
Click here to see highlights from our 2023 Weissman Artist-in-Residence, featuring the month-long residency of Israeli artist Shirel Horovitz.