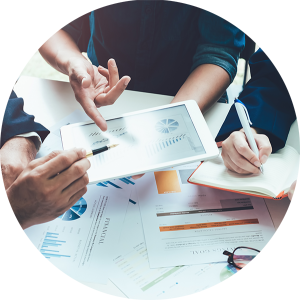 The Foundation can help you serve your clients.
As a professional advisor, you have clients who care about the community. By working with the Foundation, you can help them apply their passion to give, while enjoying significant tax benefits. The Foundation works with advisors from the legal, accounting, insurance, wealth management, and investment fields to help individuals and families reach their charitable goals.
Click here for Foundation Resources and References.

The Recognized Charitable Advisor (RCA) program is a network of Orange County professional advisors dedicated to building relationships and integrating charitable planning as a strategy for achieving clients' overall goals.
For more information, please contact Wendy Arenson, Executive Director, at wendy@jcfoc.org.
RCA PROGRAM DETAILS
Partnering with Advisors
The Jewish Community Foundation Orange County has a long history of working with attorneys, accountants, financial advisors and wealth managers, providing them with tools to engage their clients in charitable conversations to enhance their relationships.
Benefits
The Foundation offers the RCA program to advance charitable planning and to further strengthen our partnership with the Orange County professional advisor community. This program was designed by the Jewish Community Foundation San Diego and is sponsored by the Jewish Community Foundation Orange County.
Over lunchtime workshops (or via Zoom), professional advisors meet and learn from philanthropy professionals and colleagues to discuss approaches to strengthening their client relationships.
Participation Cost
$180 – Limited space is available.
For a list of Recognized Charitable Advisors click here.
For the Recognized Charitable Advisor brochure click here.
Current participants in the 2021 Recognized Charitable Advisor program can access an electronic version of the binder click here.